-Words by Kartikey Joshi
Do you think technology is getting out of hand?
When was the last time you spent a day,
without using your phone, computer or TV?
When was the last time, you were able to keep off,
from Facebook, Instagram or Twitter?
Let us be honest and agree that we humans are co-dependent with the technology.
But has it gone too far?
Has the technology taken the better of us?
Well for now we can say that it hasn't but the future is ambiguous for sure.

Speaking straight, Technology is the application of scientific knowledge for practical purpose that mainly is aimed to make our lives better and easier.
Many might argue that technology has been a boon for us since its introduction but we need to look at the bigger picture here so that technology never gets out of control.


The thing is, technology is in opposition to nature,
it means it is being produced to mimic our natural habits or traditional ways of doing things.
You might agree to the fact that the number of people who had a habit of reading news from a newspaper has reduced significantly after the introduction of TV.

The newspaper stand used to be the spot for interaction with people,
discussing and debating the current affairs.
But now everyone is confined, in their houses, busy with their own things.
Studies have shown that excessive exposure to computers, tablets, TV, mobile phones etc can be harmful for eyes and can cause sleeping disorders.

Technology is fast, no doubt, but the level of service given by it has made the new generation restless and wanting for more. Teens nowadays would never understand the struggle with 2G internet with limited data because they are used to faster networks. Not only has that but technology has influenced our physical routines.
Almost all traditional physical work be it washing clothes, walking to places, cleaning houses, etc have been replaced by machines.
Outdoor sports are getting replaced by e-sports.
This has affected the overall health and immunity of the human race.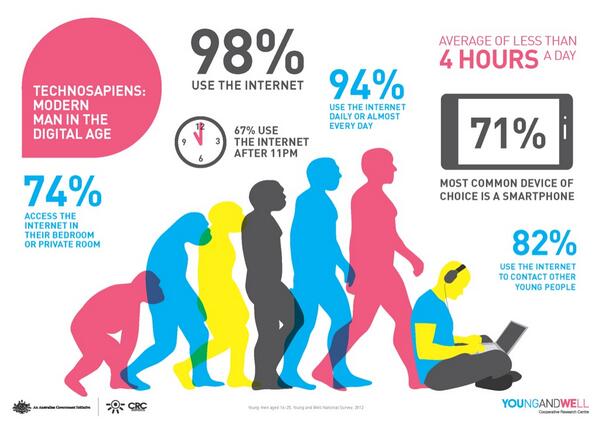 It is appalling to see kids as young as 5 years of age, using smart phones and latest gadgets.
What is the need for that?
People don't see their childhood getting ruined in the hands of technology. Our dependency on technology is getting larger and larger.
Our physical interaction has totally been shadowed by digital ways of communication.

Not to mention the ecological and environmental hazards the technology has imposed on us. We are enjoying all the facilities with the most important asset at stake, our planet. Nuclear threats, deforestation, excessive mining, pollution are the things of concern.
So the crux of the matter is,that there needs to be a balance.
The impact of technology on our social, mental, physical and environmental health is devastating,
if we don't keep ourselves in check.
We couldn't agree more that living without technology is nearly impossible,
but we can't let our lives to be completely controlled by it.
The solution is putting an end to the use of technology,
for the stuff we can do on our own.

There can be a number of things we can try out. We are different from robots; we can think and act, unless we build something to do it for us. We are the smartest species on earth and it is time to act likewise because technology is a good servant but a dangerous master.
Divide your time for mobile and computer usage.
Walk to your destination wherever possible.
Encourage your kids to go out and play rather than handing them latest gadgets.
References:-
1) Negative Impacts of Technology
2) Effects of Tech on Family
3) Technosapiens
4) Citizens drowned in Tech
5) Reading newspapers – India